Our Technology
Freedom laser hair removal technology
Unlike many budget hair removal providers, the laser hair removal technology we use at Freedom Clinics Leeds is the latest and most advanced available. This is because we are committed to achieving the best possible results for our customers and ensuring the experience is quick and pain free.
High speed LightSheer Duet for long-lasting laser hair removal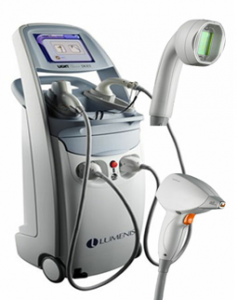 The NEW High Speed LightSheer Duet laser hair removal machine we use at Freedom Clinics in Leeds has an increased spot size of 22 mm x 35 mm combined with innovative vacuum-assist technology enabling you to treat larger areas such as backs and legs comfortably in about 15-20 minutes. There is no need for topical anaesthetics and treatment gel.
The benefits of using Lightsheer Duet are treatment times are reduced by up to 75% making it easier for people to have laser hair removal treatments during their working day, rather than having to make time for a treatment that is time consuming.
People are opting to have most areas of their body treated, as it's quick and very cost effective achieving up to 90% hair removal on completion of the course.
The treatment is also pain free, which is appealing to lots of people especially those who want laser hair removal on more intimate areas.
Laser hair removal vs. IPL
Many of our customers ask what the difference is between the laser hair removal treatments provided at Freedom Clinics Leeds and the cheaper IPL (Intense Pulse Light) treatments offered in many high street beauty salons.
Clinical studies have been performed comparing the effectiveness of laser versus IPL in the treatment of hair removal and laser has been proven as far more effective.
Laser hair removal treatment is often quicker (meaning you have to pay for fewer sessions), it's pain free, and the results last longer.
Laser is a very special type of light that has three characteristics that separate it as the brightest, most powerful light known to mankind. Laser light is monochromatic (i.e. one colour) so this means nearly 100% of laser light is one pure colour. Intense pulse light (IPL) is not monochromatic, meaning that IPL has many different colours and only a small percentage of these colours are effective in the treatment of hair reduction.
Laser is collimated (rays of light are lined up accurately and parallel) meaning it's slow to diverge or spread out. This makes laser light very powerful, as nearly 100% of the light can be effective in the treatment of hair reduction. IPL is not collimated and so therefore is quick to spread out, making it less effective in the treatment of hair reduction.
Therefore, laser stands alone as the most effective treatment for hair removal, and we at Freedom Clinics believe that you deserve the best treatment possible!
For more information on our laser hair removal technology or to book your FREE consultation and test patch for a limited time only, call 01133 800 999, or click here to visit the main Freedom website and request a FREE call-back.