About Freedom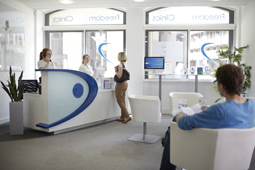 Freedom laser hair removal in Leeds is part of the of the Freedom Clinics group. We pride ourselves on only using the latest laser hair removal technology to ensure treatment is pain-free and gives long lasting results, making unwanted hair a thing of the past.
Why choose Freedom
• Fully qualified and experienced laser therapists providing a professional, friendly and discrete service
• Convenient city centre location, close to public transport links
• FREE consultation and test patch (worth £35)
• Flexible early morning, lunchtime, evening and weekend appointments available
• Affordable, discounted treatment courses available
• 24 hour online booking facility
Meet the team
Hayleyanne Murphy, lead laser hair removal therapist, Leeds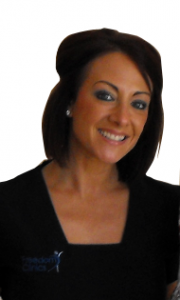 I trained with the Leeds Central College of Health & Beauty and qualified as a Therapist in 2002, from here I have worked in all aspects of the industry and now specialise in Laser hair removal in Leeds. I have treated so many clients from skin type 1 and extremely fair to skin type 4 and very dark.
Having dealt with clients with different reasons for having laser hair removal, it has made me aware how popular this treatment is and how it can really change someone's life if hair has been a hindrance for them for so long.
I had always accepted that having my regular waxing treatment was going to be 45 mins of pain, but since having laser hair removal treatments that pain I once endured is now a thing of the past, I only wish I had started the process years ago.
Having had laser hair removal treatment myself, I find it easier to advice my clients to start the treatment sooner rather than later and I have found in doing so my clients have always moved on to having more areas treated once they have seen the results with the first treatment.
Laser hair removal is also recommended for anyone suffering from Polycystic Ovary Syndrome (PCOS). Suffers usually havemenstrual abnormalities together with other features arising from excessive androgens (hyperandrogenism), although Androgens are the hormones associated with
masculine features, all women have low levels of male hormones, and all men have low levels of female hormones.
I have treated many PCOS sufferers in the past and on their first visit I have noticed their confidence and self-esteem is extremely low, they are prohibited by what they can wear and many try to cover up as much as possible to hide the hair growth. By the end of the treatment course, the difference is amazing, they have gained a lot more confidence and go on to lead normal lives and regain social activities which were lost prior to PCOS. This part of the job is rewarding and gives me great satisfaction in knowing I have changed someone's life by treating them with laser hair removal
As PCOS sufferers usually have problems stemming from their ovaries, treatment will depend on the client trying to fall pregnant, in which instance Laser hair removal treatment cannot start until the pregnancy process is finished.
If you have never had laser hair removal treatment….I strongly suggest now is the time to start with it…..if you are contemplating it but can't make the decision….just think about the times you are on holiday and you have to constantly shave….this could be a thing of the past for you!
To speak to Hayleyanne, or any of the Freedom laser hair removal team, call 01133 800 999.